PTFE-Lined Pipe and Fittings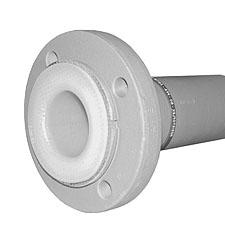 With roots dating back to 1907, SEMCOR has been a partner to manufacturers and businesses throughout the Midwest for more than a century. Our customers count on us to deliver high-quality products for all their fluid and material handling needs as well as expert support that helps position them for success.
We are proud to offer a comprehensive inventory of fluoropolymer (PTFE)-lined pipe and fittings. Our location in St. Louis makes it easy to fulfill PTFE pipe orders for clients throughout Missouri, Illinois, Indiana, Kentucky and Iowa. We also have extensive fabrication capabilities and can modify any off-the-shelf plastic-lined pipe or related product to solve the specific challenges faced by your business. Keep reading to learn more or contact our office directly for assistance from one of our team members.
Uses and Applications
PTFE is one of the most versatile materials used for lined pipe and fittings. It is near-universally chemically resistant and capable of withstanding temperatures as high as 450°F (230°C), making it ideal for handling nitric acid, oleum, nitrobenzene and other fluids used in industrial and manufacturing processes.
Choose a PTFE pipe fitting for pharmaceutical, food and beverage, and other applications where performance can't be sacrificed in the name of cost savings. For more information about potential applications of our PTFE-lined pipe fittings, contact SEMCOR directly.
PTFE Lined Pipe & Fittings Brands
SEMCOR carries PTFE-lined pipe and fittings by Resistoflex®, a leading brand whose products set the standard for reliability and performance. Through this partnership, we are able to offer our clients a comprehensive selection of PTFE lined pipe and fittings in a wide range of standard and custom sizes and configurations. Our long working relationship with  Resistoflex® means we know their products as well as anyone else, and we can ensure you get the lined pipe and fittings you need to get the job done right.
Benefits of Resistoflex® PTFE Lined Pipe
When your applications call for the handling of corrosive and/or hazardous chemicals, solvents and other substances, you can trust Resistoflex® PTFE lined pipe to deliver outstanding results that are cost-effective both in the short and the long term.
It's important to remember that not using PTFE pipe and PTFE fittings can lead to corrosion of the systems that convey caustic substances and raw materials to their place of use — such as mixing tanks and reactors. So choosing lesser quality pipes and fittings can directly result in unsafe environmental and working conditions — and failures that are far costlier to fix after damage to your piping system has occurred.
Here are some of the most popular reasons for using Resistoflex® PTFE lined pipe:
Longevity: With high corrosion resistance, the life of your pipeline is significantly increased.
Safety: PTFE lined pipe helps prevent leaks and the escape of dangerous liquids and/or gases that can contribute to unsafe working conditions.
Savings: Without the costs associated with pipeline repair and maintenance, you save in the long run. 
Purity: Because of the chemical and abrasions resistance of PTFE pipe, a nonstick environment is created that helps to maintain the purity of the fluids and gases that are being handled. 
Customizations
When an off-the-shelf solution won't do, we can customize an existing PTFE-lined fitting or other product to your specifications. We pride ourselves on the problem-solving abilities of our sales engineers. Get in touch to discuss to your needs and discover how we can help you meet them.
View Products & Contact Us
Follow the links on this page to learn more about our brands and our products. Ready to get started? Let us supply you with the right product for your industry and your application. For detailed information about our complete lineup of Resistoflex products, contact a SEMCOR representative directly by phone or email.