Composite Hose Products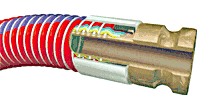 Composite hoses provide significant flexibility, safety, and chemical resistance compared to most other hose products. At SEMCOR, all of the composite hose we supply are manufactured and tested to the highest quality standards and we supply and distribute to commercial and industrial chemical companies here in the Midwest.
With expert failsafe designs and custom fabrication, a SEMCOR sales engineer can give you the exact composite hose you need, manufactured to specific high settings and adhere to industrial or federal guidelines. A composite hose is engineered to meet your handling and environmental needs for a wide range of gas, vapor and liquid conveyance for a completely reliable experience.
We are based in St. Louis, Missouri, and we can stock and supply your operation throughout the Midwest or across the United States. We've grown up local and still bring that competence and gentle nature to help customers solve problems and stay profitable.
Composite Hose Uses & Applications
Composite hose takes on some of the most demanding industries and applications. They resist rough-and-tumble operations, ranging from inside factories to conveying materials on rail yards and dangerous scenarios. Uses and industries include:
Acids
Batch processing
Blending
Chemical plants and refineries
Chemical haulers
Chemical transfer
Drumming
Dye
Ink
Paint transfer
Petroleum products
Pigments
Process piping
Solvents
Storage tank transfer
Tank trucks and rail cars
Top loading
And much more
We also offer specialty composite hose rated for a variety of different applications. This can include compliance for EPA Stage 1 as well as other industry-specific requirements. Every composite hose is rated for different vapor handling, so check with SEMCOR to find the right fit.
Composite Hose Brands
SEMCOR carries Uni-Chem composite hose by Novaflex Hose, a top manufacturer of composite hose products for more than 100 years. They offer specific lines for liquid and gaseous transference. One of the hallmarks of their design includes tightly wound components that create a significant seal that strengthens as the internal pressure of liquids builds.
Ask us for recommendations on the selection that focuses on lightweight options, extra flexibility, PVC outer covers, end-to-end electrical continuity and even vacuum support. No matter what you're conveying, SEMCOR and US Hose Corp. have you covered.
NovaFlex Composite Hose Resistance Chart
NovaFlex Uni-Chem Composite Hose
View Products & Contact Us
We offer a diverse product line we pair with best-in-class fabrication to deliver the right support for any liquid and gas transfer. By relying on smart partners and fabricating unique offerings when needed, we've been able to meet customer demands since 1907.
Contact us to find the right composite hose for your application and get the entire supply you need in one order.