Standard and Customized Lined Pipe and Fittings
The right choice of piping and fittings plays a key role in the success and efficiency of your processes. When it comes to fluid handling, manufacturers today have a larger number of options available to them than ever before. Working with a supplier you can turn to for expert advice is the best way to choose the combination of products that will offer the best performance in your application.
SEMCOR carries off-the-shelf standard pipe fittings and piping in a wide range of materials, sizes, and configurations. We are also fully equipped to modify an existing product so that it performs better in your specific application. Follow the links below for more information about the pipe fittings products we offer our clients in the chemical processing, power generation, pharmaceutical and other industries. For assistance from one of our sales engineers, please contact our office directly by phone or email.
PTFE-Lined Pipe and Fittings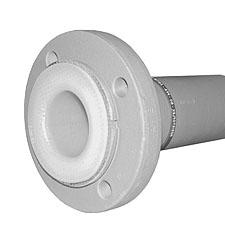 Fluoropolymer (PTFE) lined pipe and fittings offer exceptional resistance against corrosive chemicals, as well as superior flexibility and the ability to handle high-temperature liquids. SEMCOR is an authorized distributor of Resistoflex® PTFE-lined pipes and fitting products. We supply the company's complete lineup of PTFE-lined piping and accessories in sizes ranging from 1" to 12". With the strength of steel and superior corrosion resistance, PTFE-lined piping is an excellent choice for many industrial applications. SEMCOR has one of the largest inventories of PTFE lined pipe and fittings in the entire Midwest and can fabricate pipe spools in-house that have up to a 10-inch diameter.
Polypropylene (PP)-Lined Pipe and Fittings
Polypropylene (PP) lined pipe is our most economical option for industrial fluid handling. PP lining delivers excellent resistance to acidic and basic fluids and can handle temperatures up to 225˚F (110˚C). However, it does not handle solvents and VOCs well, and can become brittle in low temperatures. Typical uses for PP-lined piping include water treatment, chemical processing, and power generation. PP-lined piping is also a popular choice for use in food and beverage manufacturing, processing and packaging.
ATL PTFE-Lined Pipe and Fittings
Resistoflex ATL PTFE piping is a highly specialized variant on conventional PTFE-lined piping that has been designed to reduce permeation rates by up to 60%. Made from specially formulated resins, ATL PTFE liners deliver optimal crystallinity and strength, even in severe service applications. As a result, they can withstand exposure to both aggressive chemicals and high temperatures. For more information and detailed product specifications, contact SEMCOR directly.
PVDF-Lined Pipe and Fittings
PVDF lined pipe — also known as Kynar® — is extremely tough and durable, with superior abrasion resistance compared to other types of lined piping. It has a high thermal expansion coefficient and is suitable for use with halogens and high-strength acids. As a result, Kynar-lined piping is often used for pulp and paper manufacturing, chemical processing and electronics manufacturing. It is less suitable for processes involving pH levels higher than 11, or temperatures above 275°F (135°C).
For all of the above products, we carry an extensive supply of pipe fittings and accessories. Let us put together a complete package containing everything you need for your application. Contact SEMCOR today and discover why we're the leading supplier of lined and pipe fittings for clients throughout the Midwest.